HIGH SCHOOL SENIORS
 please see Sis. Kehli Higdon in order to receive the information required to participate in the Annual Graduation Ceremony.  
COUPLES BIBLE STUDY
will be held on Saturday, March 16th at Schaffer Road Church of Christ beginning at 3 pm. 
SCHAFFER ROAD EVANGELISM TEAM PANCAKE BREAKFAST
 will be Saturday, April 20th from 9 am – 11am.  RSVP to this event via announce@srcocf.org
LEADERSHIP TRAINING
will be held at Hillcrest Church of Christ on March 16
th
 from 10 AM-1 PM.  Schaffer Road will host the training on April 24
th
 and May 4
th
 from 10 AM-12 PM.
LADIES BIBLE STUDY
 will be held on Saturday, March 30th in the home of Sis. Veronica Payne. More information to follow. 
ATTENTION
PARENTS
!
If your child has upcoming events in the next 6 months that you would like the congregation to support please see Sis. Nicole Day.
VOLUNTEER INCOME TAX ASSISTANCE (VITA)
EVERY SATURDAY at 9 am – 2 pm from JANUARY 26 – APRIL 13, 2019
Individuals and families with a combined household income of $54,000 or less, persons with disabilities, and limited English speaking taxpayers may be eligible for FREE BASIC TAX SERVICES provided by IRS certified volunteers. If you have any questions please contact us at SRCOCVITA@GMAIL.COM OR 770-437-9047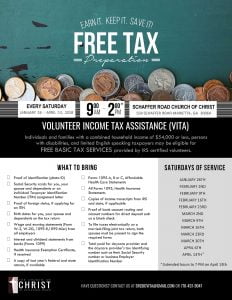 BUSINESS DIRECTORY
If you are a business owner please submit your business information to Sis. Lakechia Mosley. She is in the process of creating a business directory. Please email your information to lakechia_mosley@yahoo.com
CALENDAR EVENTS
Any events that you would like to be put on the calendar please send that information to Sis. Lakechia Mosley. This is also to ensure that events don't overlap. Please email information to lakechia_mosley@yahoo.com
MEN'S AND LADIES BIBLE STUDY
Men's and ladies Bible study is every second Sunday. Men will meet in the fellowship hall and ladies will meet in the sanctuary.
LIFE GROUP MEETING
Life Group meeting will be conducted every last Sunday of the month
DONATIONS NEEDED FOR FOOD PANTRY
The Food Pantry is asking for donations of personal hygiene items for both men and women (soap, lotion, deodorant, etc.). Please see Bro & Sis. Johnson with your donations.
YOUTH & YOUNG ADULT MENTORSHIP PROGRAM
Will meet every 2nd Sunday of the month following 10:45 worship
Check back for more information on the next event.
VAN DRIVERS NEEDED
We are in desperate need of van drivers. If you are interested please see Bro. Johnson.
FIND OUT MORE?
If you would like more information on any of our events, let us know what you're looking for.
INSTAGRAM
Something is wrong.

Instagram token error.
SERVICE TIMES
SUNDAYS
8:30 am - Early Morning Worship
9:30 am - Bible Study
10:45 am - Mid-Morning Worship
4:00 pm - Evening Worship
WEDNESDAYS
7:00 pm - Bible Study Sign up & follow us on social media
for updates!